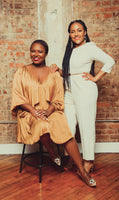 Our Mission
"The first wealth is health." - Ralph Waldo Emerson
We believe that wellness is the combination of positive, sustainable habits that support a balanced internal and external environment.
Every person has the opportunity to take ownership of his/her/their well-being by choosing the methods that suit them best.
Whether embarking on a new journey, or looking to supplement an existing regimen, our products were designed to help you curate a well-thy lifestyle!
Founders Dr. Tiffany McLean and Dr. Arielle Dufresne
Why Choose My Apothecary?
THC-Free
According to a study by the University of Pennsylvania, nearly 70% of CBD extracts sold online are mislabeled. You don't have to worry about unwanted THC showing up in My Apothecary CBD — our lab reports show no detectable THC.

Premium Grade
Our products are considered premium grade because they are manufactured using the highest standards. We offer CBD products of the highest purity with no binders, fillers, excipients, dyes or unknown substances.

Broad Spectrum
CBD quality is about more than just purity and labeling. Our products contain many of the cannabinoids and terpenes present in the hemp plant, so you get the synergistic impact — or entourage effect — of these compounds working together.

Consistency
All of our hemp oil is created using the same extraction process in the same facility, which creates consistency. This ensures that you will receive a product that's always reliable and effective.